International Association for the Advancement of Steam Power



Shaun T. McMahon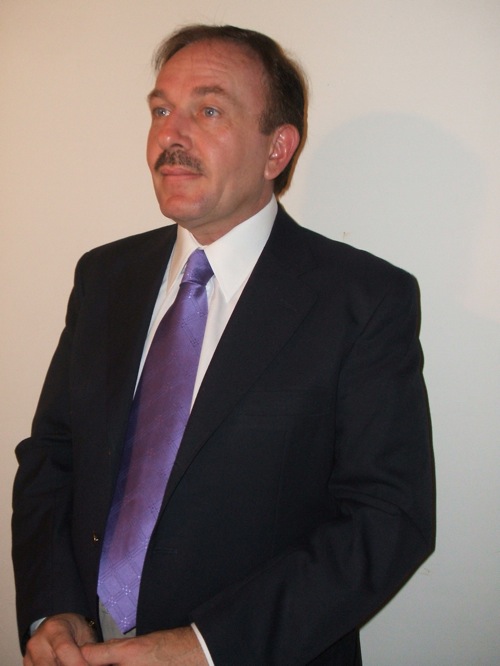 Born in 1965 in Manchester, United Kingdom, Shaun now lives in Tierra del Fuego, Argentina. He is a British Citizen, Argentine Permanent Resident, and former South African Permanent Resident.
EDUCATION & TRAINING
UK Higher National Certificate in Engineering
Electric arc and gas welding advanced course leading to pressure vessel fabrication
"Advanced Design and Fabrication of Pressure Vessels, ASME Section VIII, Division 1 with explanation of Division 2 and current European Codes of Practice for Pressure Vessels" - American Society of Mechanical Engineers Continuing Education Institute.
PROFESSIONAL EXPERIENCE
Currently, Mr. McMahon serves as consultant to the Provincial Government of Santa Cruz, Ministry of Production, Argentina. He is preparing a pre-project and feasibility study report relating to the general restructure of the seven existing Departmental Regions of the Province of Santa Cruz. Particular involvement is in the following selected areas:

Current rational use of energy projects
Current power generation projects
Road/rail/air transportation improvements and upgrading
Upgrading of existing tourist and visitor facilities
Improvements to technical education facilities, resources and infrastructure
Improvements to maritime facilities and activities
Continuation of the Rio Turbio Rail project
The following represents only a small portion of Shaun's additional (extensive) steam power background:
Since 1992, he has been Consulting Engineer to the Porta Treatment project, an Advanced Internal Boiler Water Treatment Regime involving the worldwide application of a modern internal boiler water chemical treatment for steam locomotives, power plants etc. The system was developed by Ing. L.D. Porta in Argentina between 1969 and 1974 on the Ferrocarril General Belgrano system in northern Argentina and later further tested and developed by S.T. McMahon at the Ferrocarril Austral Fueguino (FCAF), Ushuaia, Argentina between 1999 and 2004. It is considered to be the most advanced system of its type in the world today.
As Technical Director and Consultant, Mr. McMahon managed the Trans Oceanic Railway Project, Ramal Ferroviarrio Industrial de Rio Turbio, Punto Loyola (Rio Gallegos, Argentina) to Puerto Bories (Puerto Natales, Chile).
As Technical Development Projects Manager for Tranex Turismo S.A. Tierra del Fuego, Argentina. Shaun was in overall charge of all engineering departments and engineering development projects with respect to railway companies, managed or consulted upon by Tranex Turismo S.A. in Argentina and other countries worldwide.
As Technical Manager - Tranex/FCAF, Mr. McMahon handled the running of the Engineering and Operating Departments of FCAF.
For Girdlestone and Associates, Natal, Republic of South Africa, Shaun conducted engineering work on contract basis.
Mr. McMahon handled day to day events of the Mechanical Engineering Department for the 122 km long freight and passenger carrying Alfred County Railway. This railway conducted engineering design modifications of its steam locomotive fleet, in conjunction with exhaust and combustion systems in order to improve thermodynamic efficiency and reduce smoke and spark emissions.
He was involved in the development of an experimental trough type oil burner for Snowdon Mountain Railway, North Wales which led to the implementation of a new oil firing system by this company.
Shaun is an experienced locomotive engineman.
He was responsible for setting up, and subsequent running, of the Festiniog Railway Heritage Group in conjunction with the Ffestiniog Railway Society and Ffestiniog Railway Trust.
OTHER PROFESSIONAL ACTIVITIES
American Society of Mechanical Engineers (ASME) - Full member.
Modern Steam Locomotive Development - Closely involved with various 21st Century steam locomotive development projects worldwide in the business, engineering and marketing areas.
Argentina/Chile - Bi National Government Railway Commission, Buenos Aires/Santiago de Chile. - Member of Argentine national government commission based at the Foreign Office, Buenos Aires, dealing with railway border crossings between both countries, and all technical and operational aspects of current Trans Andean railway projects.
International Association for the Advancement of Steam Power, Sacramento, CA, USA. - Member of IAASP Steering Committee.
Instituto Nacional de Tecnologia Industrial (National Institute of Industrial Technology - INTI), Buenos Aires, Argentina. - Development of rational use of energy projects at the national level in conjunction with the Mechanical and Energy Departments in the face of the current national and international oil crisis. Assistance with the extension of regional support offices to areas not previously covered as "base regions" in order to improve technical "on the spot" facilities in remote areas such as the Provinces of Tierra del Fuego and Santa Cruz.
PUBLICATIONS
Author and co - author of various published and un-published technical articles and papers dealing with steam locomotive development, clean and efficient use of energy in the face of the oil crisis, transportation and power generation. Many of these appear in commercially available magazines, in-house institutional magazines, newsletters, journals and on the Internet.
LANGUAGES
These include: English, Welsh, Spanish, Afrikaans, French, and a basic understanding of Zulu.